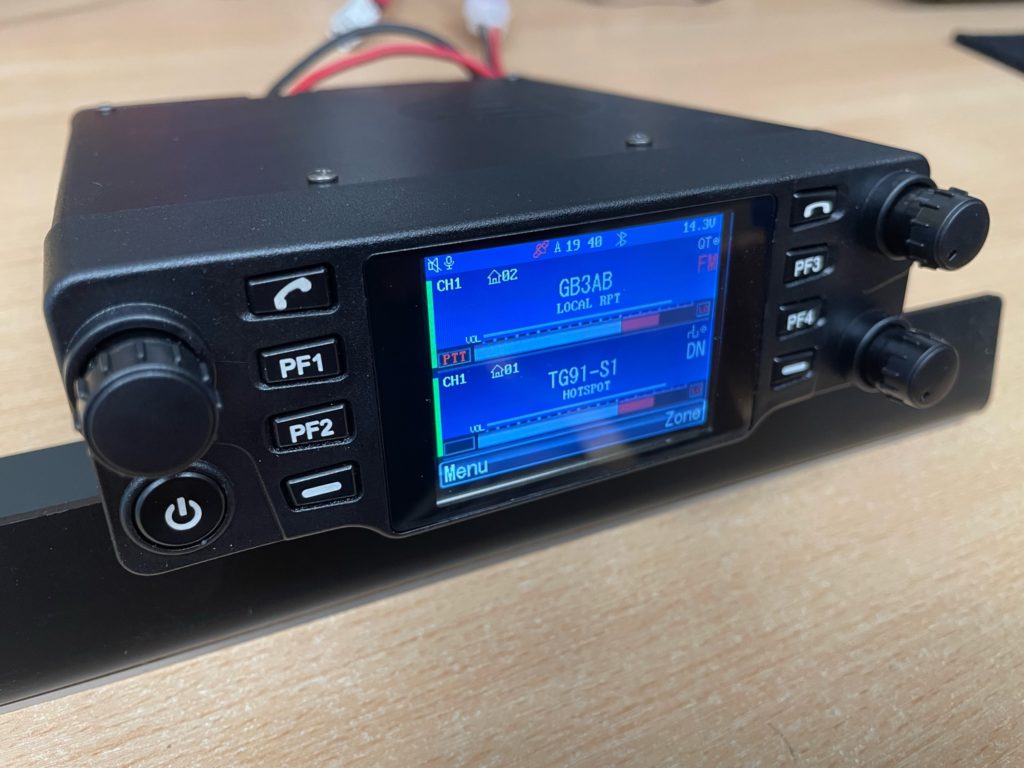 Radioddity DB40-D DMR Mobile Radio | 40W | Analog & Digital | VHF & UHF | GPS & APRS | Cross-band Repeat | Bluetooth 5.0 | 500K Contacts | 10 DIY Keys
€434,95
PRESALE END
PRESALE END !!
Software
Programming SoftwareCable Driver
Manual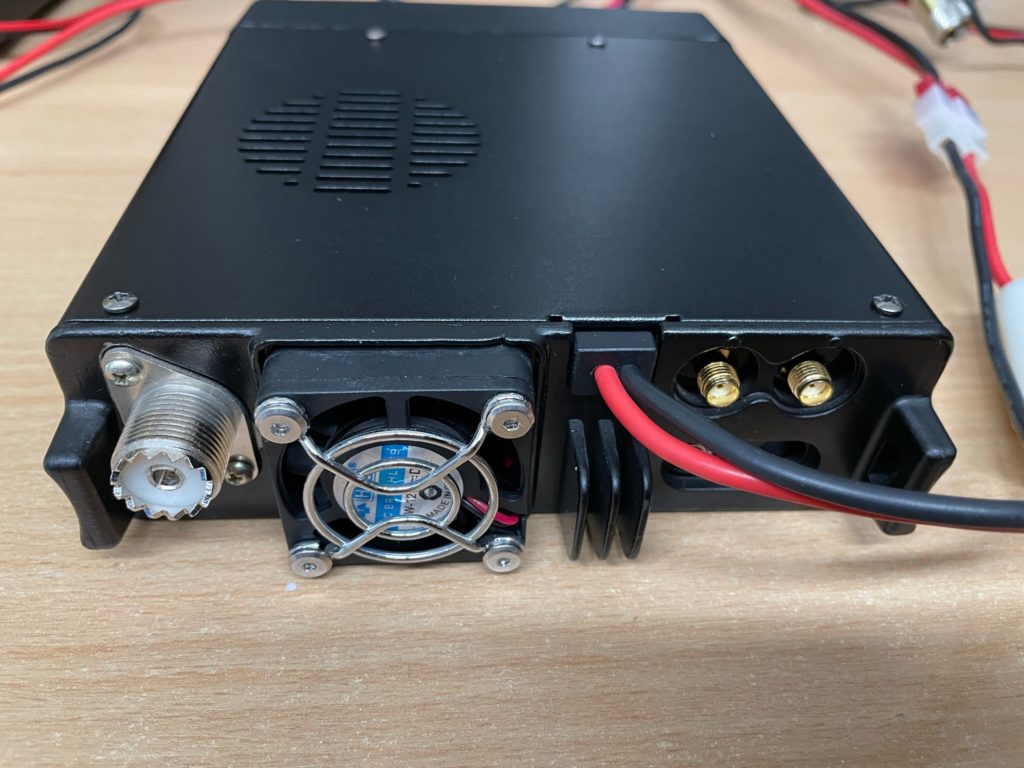 40W High Power and Smooth Communication: Enjoy the convenience of adjusting output power with options of 20W and 40W. Stay seamlessly connected by storing up to 500K DMR contact IDs (currently 300K, upgradeable via firmware when IDs reach 250K). Easily manage and access channels and zones from a substantial capacity of 4,000.
Upgraded Bluetooth Operation: Cut the cords and embrace effortless communication. The equipped extra Bluetooth PTT keeps your hands on the wheel for distraction-free driving. The included Bluetooth earpiece ensures clarity and comfort, perfect for work or exploration. Stay connected and comfortable, wherever you are.
Accurate Location with GPS/APRS: Stay confidently on course using the built-in GPS and APRS functions. Report instant updates on your location, ensuring others remain informed and you stay connected to your surroundings on every adventure.
Extended Range with Repeating Feature: Use SFR for same-frequency transmission and reception, ensuring messages reach destination in tough conditions. Effortlessly establish cross-band repeaters with this ham radio, enhancing communication across frequency bands for long range talking.
Ten Customizable Keys: Empower your communication with its 10 customizable keys. Tailor these keys for swift access to 20 frequently used functions, boosting your operational efficiency.
Disclaimer: No License is required to purchase this radio, nor to Monitor (listen) to the many Amateur (Ham) Radio frequencies. However, an FCC License is required to Transmit (Talk) on Amateur Radio Frequencies in the USA. Please visit http://wireless.fcc.gov/services/amateur/licensing to learn more.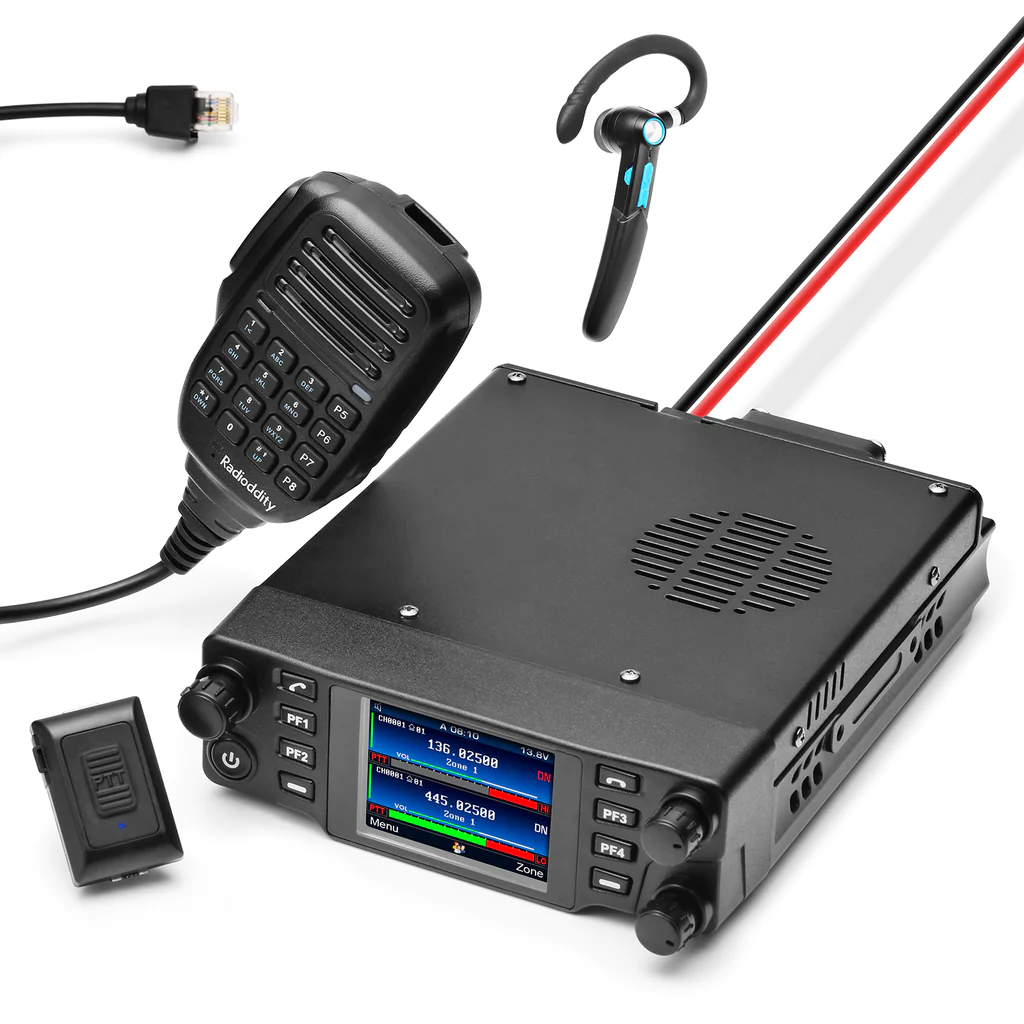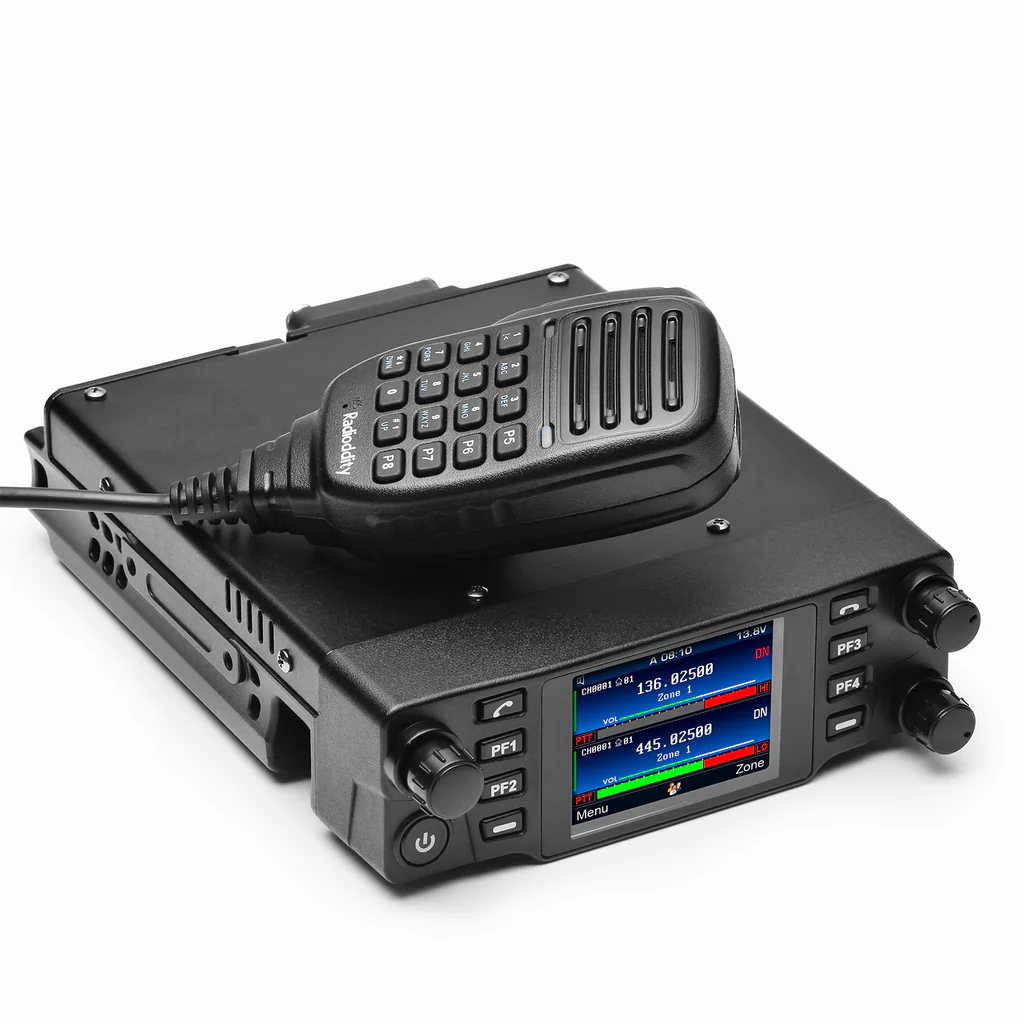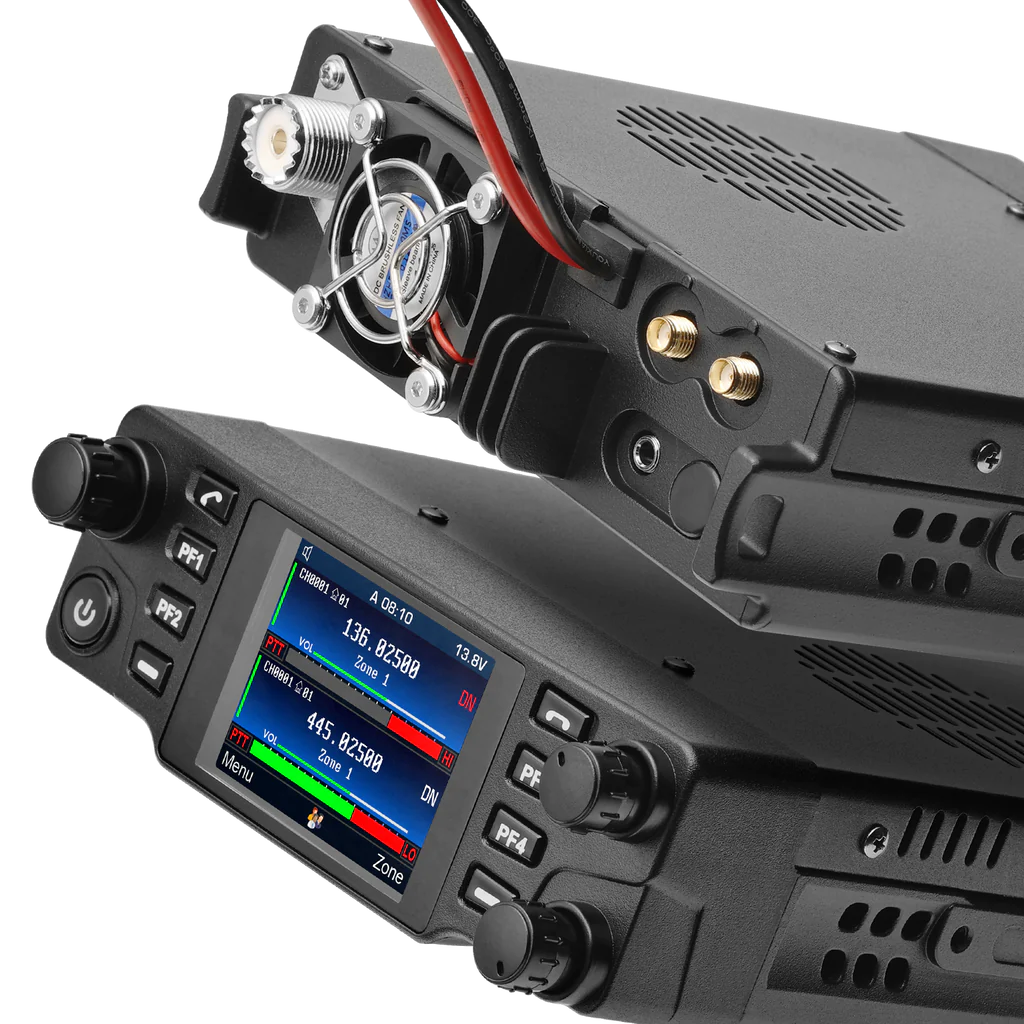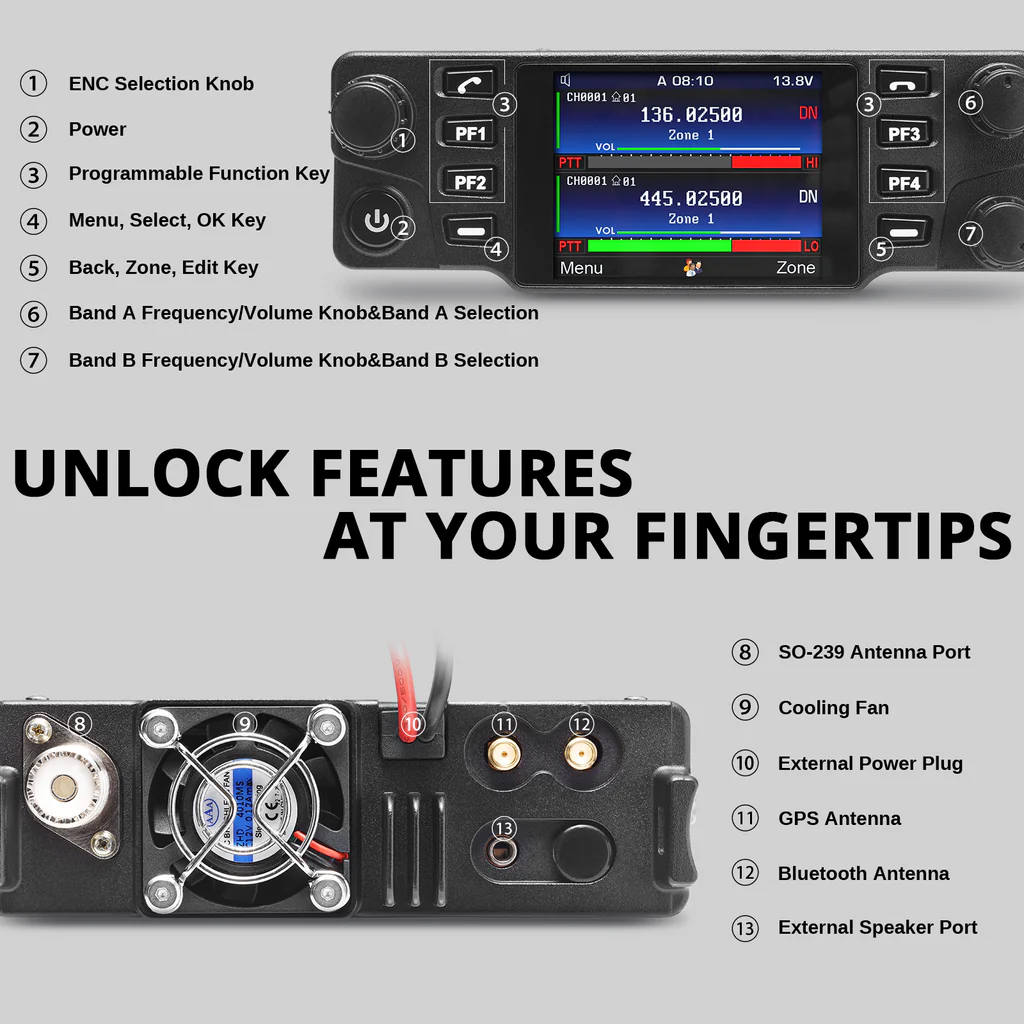 Elevate outdoor journeys with Radioddity DB40-D: Dual-band powerful 40 Watt transceiver. GPS/APRS for precise GPS-position reporting. Cross-band repeater, same frequency repeating with crystal clear audio, up to 500K DMR ID Contacts, 4000 channels within zones. Unleash communication potential in any terrain. Your vehicle's perfect companion!

Enhanced Cross-Band Repeater: Extended Range
The DB40-D acts as a base radio, transmitting across UHF/VHF bands. It amplifies signal range by relaying between bands and even crosses analog-digital borders. Elevate communication reach with DB40-D's versatile cross-band repeater function.
Streamlined Emergency Communication with SFR
Same Frequency Repeater (SFR) makes maximum usage of DMR TDMA by using one frequency for both send and receive. Connects multiple devices to form a mesh network, aiding swift coordination in emergencies. Reliable and efficient, SFR simplifies communication when every moment counts.
Real-time APRS Position Reporting
DB40-D features a robust built-in location receiver for seamless APRS integration. Instantly share real-time position updates on the APRS network during outdoor adventures. Coupled with SFR, it's a vital tool for emergencies, ensuring your safety is never compromised.
Effortless Customization
DB40-D boasts 10 customizable keys, each with long/short press options, offering 20 functions out of 30+ with single keystrokes.

Versatile DUAL Functionality
This mobile radio has dual VFOs for VHF/UHF, seamless analog-to-digital migration, and dual-standby for monitoring two channels.

Tailored Communication
With a total of up to 4K channels and zones, it empowers you to organize and allocate your communication partners to fully match your needs.

Strong Signals, Less Interference
Benefiting from boosted signal strength and sensitivity, DB40-D's GPS antenna ensures a robust outdoor satellite connection.
 
Feature Functions
– Support WIN 7 to WIN 11 program
– VFO, SMS, TOT, GPS, APRS, Emergency Alarm
– DMR APRS and Analog APRS Capable (GPS)
– 9 Level Squelch
– 12 Level VOX
– DMR Tier 1 and Tier 2 (for dual timeslot as required by repeaters)
– Busy Channel Lock-out, Automatic Keypad Lock
– 2.4'' Color Screen
– 10 Customizable Function Keys
– Adjustable Microphone Gain
– Speaker Mic with Magnet for Hanging
– 200 Hours Recording Time
 
Specificationss
FCC ID: VO6CDR-700UV
Frequency: VHF 136-174MHz | UHF 400-480MHz
Mode: Analog + DMR (Tier 1 and Tier 2)
Power Output: 20W | 40W
Channels: 4000 (ch+zone)
DMR ID Database: Up to 500,000
CTCSS/DCS: 51/108
Bandwidth: 12.5kHz/25kHz
Screen: 2.4'' TFT screen
Size: 5.4 x 6.3 x 1.6in | 13.8 x 16 x 4.1cm
Weight: 2lb | 0.9kg)
Antenna Port: SO-239
Need Antenna with Port: PL-259
Bluetooth Earpiece Compatibility: Most of Bluetooth earpieces
**In case of any compatibility issues, feel free to reach out to our customer service. We will offer firmware upgrades to accommodate additional Bluetooth earpiece models.
 
Bluetooth Earphone Connection Guide:
1. Power on the radio
2. Enter the DB40-D menu
3. Navigate to the "Appendix" section and select "Bluetooth"
4. Select "BT Earset" and enter the PTT submenu.
5. Select "Earset Scan" to search earphone's Bluetooth. The screen will display a flashing icon indicating the search is active.
6. Look for the device named "ME100" in the search results and choose to connect. Once connected, the Bluetooth icon on the display will turn into a white circle.

Bluetooth PTT Connection Guide:
1. Short press the central button on the Bluetooth PTT. A blinking blue light indicates it is in search mode.
2. Follow the steps above to access the Bluetooth menu in the "Appendix" section.
3. Select "BT PTT" and enter the PTT submenu.
4. Select "PTT Scan". The screen will display a flashing icon indicating the search is active.
5. Once the PTT device is automatically connected, you will return to the desktop, and a PTT symbol will appear on the screen.
 
What's in the box?
1 x DB40-D Mobile Radio
1 x GPS Antenna (The rectangled stubby antenna)
1 x BT Antenna (The straight stubby antenna)
1 x Speaker Microphone (Detachable)
1 x DC Power Cable (With 20A Fuse)
1 x Mounting Bracket
4 x Mounting Screws (M4 x 10mm)
1 x Bluetooth PTT
1 x Bluetooth Earpiece (With charging cable)
1 x Programming cable
1 x User Manual
Impactos: 371