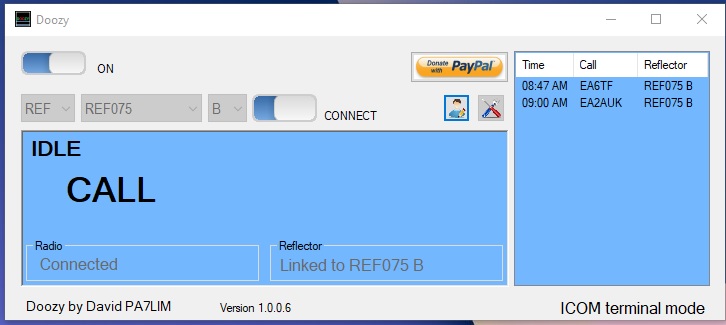 Last Version:
https://software.pa7lim.nl/Doozy/beta/Doozy-1.0.0.22.zip

Changes:
Changes in this version:- Show the call from the radio on screen. ( was call from Doozy setup )
– When call is not entered in radio, it will use the call used in Doozy.
– Fix in hotspot mode ( yes, you can also do hotspot mode )
– Screen adjustments- Small fixesHave fun experimenting!
David PA7LIM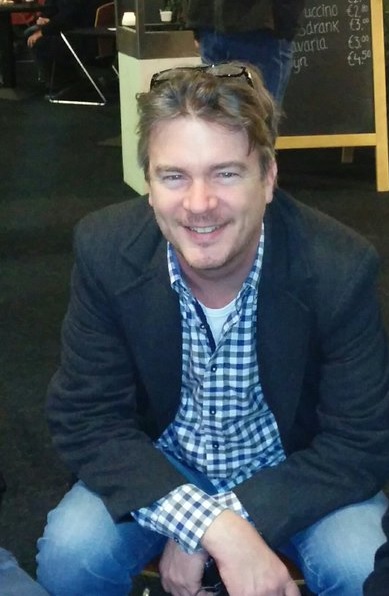 DOOZY, El Nuevo Proyecto De David PA7LIM Que Despues De Varios Dias De Pruebas Y Aun En Modo Experimental,Se Lanza Para Que Todos Podamos Disfrutar Con Este Programa…
Que Es Doozy?¿ Es Un Programa Que Facilita La Conexion A Reflectores D-STAR En Modo Terminal.
En Que Se Diferencia Del Software De ICOM?¿
Doozy A Diferencia Del Software De Icom (RS-MS3W) Nos Permite La Conexion A Cualquier Reflector D-STAR Soporte O No Soporte El Terminal Mode!!! Es Decir Puedes Conectar A DCS,XLX,XRF,REF Y Usuarios Y Repetidores Directamente**** Tienen Que Encontrarse EN La Lista Hotfiles***
Como Funciona?¿ Es De Lo Mas Simple Usando El Cable De Datos Para Icom Conectamos Nuestro ICOM En Terminal Mode Al PC Y En El Programa Seleccionamos El Puerto Com Le Damos A on ,Despues Solo Tenemos Que Seleccionar Un Reflector Por Ejemplo EL REF075 Modulo B Que Es El Que Tenemos En España Original De Icom Y Le Damos A Conectar…Podemos Seleccionar Cualquier Reflector DCS,XRF,REF,XLX Etc…
Sitio Oficial Doozy:https://www.pa7lim.nl/Doozy/
RED D-STAR SPAIN:http://dstar.xreflector.es/
Grupo Oficial De Facebook:https://www.facebook.com/groups/doozybypa7lim/
Grupo De Telegram En Español:https://t.me/doozysoftware
Changelog : https://www.pa7lim.nl/doozy-changelog/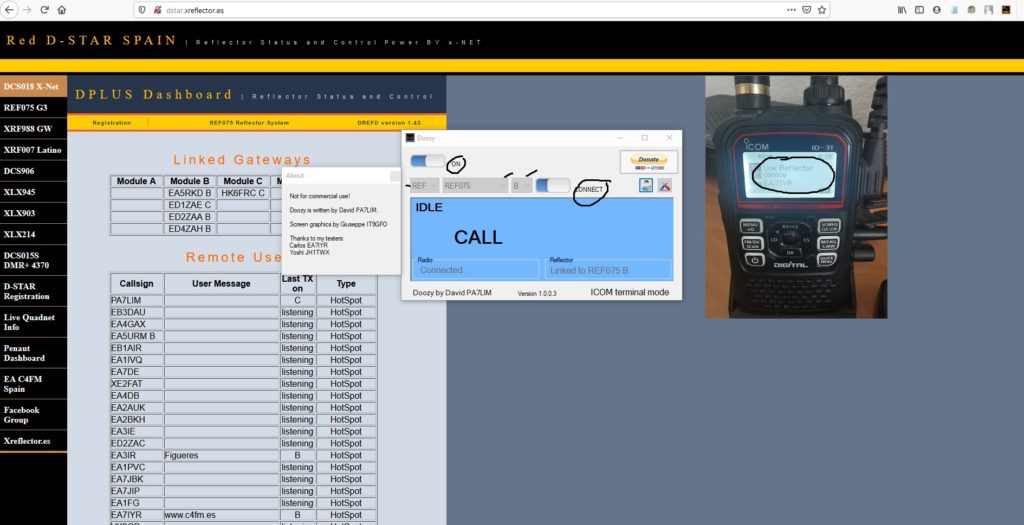 El Cable Es Caro? NO!!! Ademas Te Lo Puedes Hacer Tu Mismo O Comprar El Compatible Por EBAY!!!
https://www.florian-wolters.de/blog/2016/02/14/icom-id-51-data-cable/
https://software.pa7lim.nl/Doozy/
Detalles sobre el kit de cable USB requerido de Icom: este es el kit de cable que se conecta al conector DATA en el IC-9700 (mi kit de cable vino con mi ID-51a2 +) O El Cable Anterior Mencionado
Consulte el Manual avanzado del IC-9700 para obtener más detalles sobre la función de puerta de enlace DV, incluido el modo terminal y el modo AP.
ATENCION ICOM 705 Trae Un Bug En FW Por Lo Que Hasta No Se Solucione Puede No Funcionar Correctamente..
IFO TO http://www.pa7lim.nl/doozy/
doozy
With Doozy for Windows you can make QSO's via your Windows PC on DSTAR ( DPLUS, DEXTRA, DCS and XLX ). There is no need for a hotspot. Just connect your ICOM IC-705 to your Windows PC with an USB datacable and connect it to your favorite DSTAR reflector/repeater.
Download Doozy from the link: http://software.pa7lim.nl/Doozy/
Download and install the ICOM serial drivers from the ICOM website ( important! )
Install Doozy and go to the setup. Enter your call and select the correct COM port.
Set the ICOM IC-705 in Terminal mode. [MENU] -> [2] -> [DV GW] -> [<<Teminal Mode>>]
In Doozy, switch ON and connect to your favorite reflector.
Doozy is tested on :
ICOM IC-705
ICOM 9700 ( needs special cable OPC-2350LU)
ICOM ID-51 plus 2 ( needs special cable OPC-2350LU)
ICOM 31 plus ( needs special cable OPC-2350LU)
Not tested
ICOM ID-4100 ( needs special cable OPC-2350LU)
ICOM ID-52
Doozy will be available soon!
Facebook group : https://www.facebook.com/groups/2579161019031717/
Have fun!
David PA7LIM
@Xreflector.es Todos Los Derechos Reservados
Impactos: 485